The Boston Radio Dial: WGBH(FM)
Who, What, Where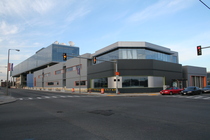 WGBH studios, Brighton
Community:
Boston
Frequency:
89.7 MHz
Class:
B
Ownership:
WGBH Educational Foundation
Studio:
1 Guest St.
Brighton, MA 02135-2016
Transmitter:
Great Blue Hill
Milton, MA 02186
Phones:

| | |
| --- | --- |
| Receptionist | +1 617 492 2777 |
| Pledge line | 492 1111 |

Format:

| | |
| --- | --- |
| Main | NPR news, European classical music, jazz, Americana, blues |
| HD2 | European classical music "WGBH Classical" |
| HD3 | // WCAI 90.1 Woods Hole, "Cape and Islands Public Radio" |

Networks:
National Public Radio
Public Radio International
Web site:
wgbh.org
Technical Parameters
WGBH(FM) transmits with 98 kW ERP from an eight-bay antenna atop Great Blue Hill in Canton, Mass. The antenna is configured for 0.4° of electrical beam tilt; ERP in the lobe is 100 kW. Facilities were last upgraded in 1979; original plans called for a 15-kW transmitter and a larger antenna, but were scrapped because the Great Blue Hill tower did not have space for the required ten bays. The tower was at one time shared with WGBH-TV, and TV backup facilities remained there until taken down in the 1979 upgrade. In 2004, WGBH received and built a construction permit for a 22.5-kW auxiliary facility, lower down on the same tower.
WGBH transmits a digital signal using iBiquity Digital Corp.'s "HD Radio" system. WGBH's programming is also rebroadcast over translator W242AA (96.3 Beacon Hill, etc.), and satellite WNCK (89.5 Nantucket).
Station History
With its debut on October 6, 1951, WGBH became one of the first noncommercial stations in America to operate without direct ties to an educational institution. While wags joked that the calls stood for "God Bless Harvard", and the station was supported in part by donations from Harvard (including the transmitter site on Great Blue Hill in Milton), it was operated by the "WGBH Educational Foundation", which eventually would include representation from most of the educational institutions in the Boston area.
The foundation was an outgrowth of the Lowell Institute, whose history even then dated back more than a century. The Institute's Cooperative Broadcasting Council began offering educational programming over Boston's commercial AM stations in the thirties before seeking a station of its own.
With funding provided by the Institute, a transmitter donated by Edwin Howard Armstrong himself, and studio space in Boston's Symphony Hall, WGBH was off to a strong start, helped by the popularity of its live Boston Symphony Orchestra concerts, a tradition that continues today.
Under the leadership of Ralph Lowell and Hartford Gunn, WGBH offered a wide variety of educational programming, ranging from speeches and panel discussions to classical music to jazz and folk. WGBH was the key station of the Eastern Educational Network, an early interconnection of the first few educational radio stations in the region.
With the establishment of WGBH-TV in 1955, much of the explicitly "educational" function of WGBH radio was shifted to the TV side, with the radio station becoming increasingly focused on music programming.
After the fire that destroyed the WGBH studios at 84 Massachusetts Avenue in Cambridge in the sixties, the WGBH stations moved across the Charles River to a new home on Western Avenue in Allston. (The old location, on the MIT campus, would later become the home of MIT's Stratton Student Center.) WGBH radio became an early member of National Public Radio and a regular contributor of programming to the NPR system.
WGBH's best-known program through the seventies, eighties, and most of the nineties was Robert J. Lurtsema's "Morning pro musica", heard at its height on a network that extended from Maine to Albany. The station's nightly jazz and blues programming also found a receptive audience, thanks in part to the station's 100-kW signal that reaches from Rhode Island to New Hampshire.
In 1986 and 1987, WGBH's program was transmitted in digital form over the facilities of sister station WGBX, under experimental authorization from the FCC, using a proprietary Sony encoding system, during the overnight hours. Only a few hundred people ever purchased the equipment necessary to decode the digital broadcasts, and the experiment was abandoned. (The same equipment was used by many radio stations to record live performances on videotape.)
In the nineties, WGBH refocused its radio programming, replacing music in the early morning with NPR's "Morning Edition" (also heard in Boston on WBUR), and creating "The World", a new daily news program produced in conjunction with the BBC and distributed domestically by Public Radio International.
Not all of the moves were welcomed by all of WGBH's listeners. The 1996 cancellation of Ron della Chiesa's "Music America", the afternoon program that offered a wide scope of American popular music, led to the creation of a listeners' group and the withholding of some members' contributions. Other programs, such as the weekend "Folk Heritage" show, survived the changes that left weekdays on WGBH the province of news, classical, jazz, and blues.
WGBH began the 21st century with two additional radio services. WCAI (90.1 Woods Hole) and WNAN (91.1 Nantucket) both signed on in 2000, serving Cape Cod from studios in Woods Hole and with support from the WGBH organization. Later, WGBH would add a second Nantucket signal, WNCK (89.5), which mostly rebroadcasts the news and cultural programming of the main Boston signal.
On June 7, 2005, WGBH added another Cape signal to its WCAI/WNAN network. WZAI (94.3 Brewster) was the product of a construction permit for which WGBH paid nearly $4 million at FCC auction. In April 2006, WGBH added an HD2 subchannel offering full-time classical music, including delayed rebroadcasts of its main-channel classical programming and syndicated offerings such as "Performance Today".
In early 2005, WGBH broke ground on a new studio complex for both radio and television, which would reunite all of the station's operations in a single building. The new studios, located on Market Street in Brighton, opened on June 11, 2007; some administrative functions had already moved into the nearby 10 Guest Street office building in 2005.
See Also
Other stations operated by the WGBH Educational Foundation:

WJMF 88.7 Smithfield, R.I. (rebroadcasts WCRB)
WNCK 89.5 Nantucket (rebroadcasts WCRB)
WCAI 90.1 Woods Hole
WNAN 91.1 Nantucket
W242AA 96.3 Beacon Hill (WGBH-HD2 translator)
WGBY-TV 57/58 Springfield

[an error occurred while processing this directive]
---

This station profile was written by the editors of The Archives @ BostonRadio.org. We have no relationship with the station; please send any comments or questions about their programming directly to the station. Network connectivity courtesy of MIT CSAIL.
[ Home | Contact | Legal | Updated: 2009-08-13 | Validate this page ]