Some John Shepard History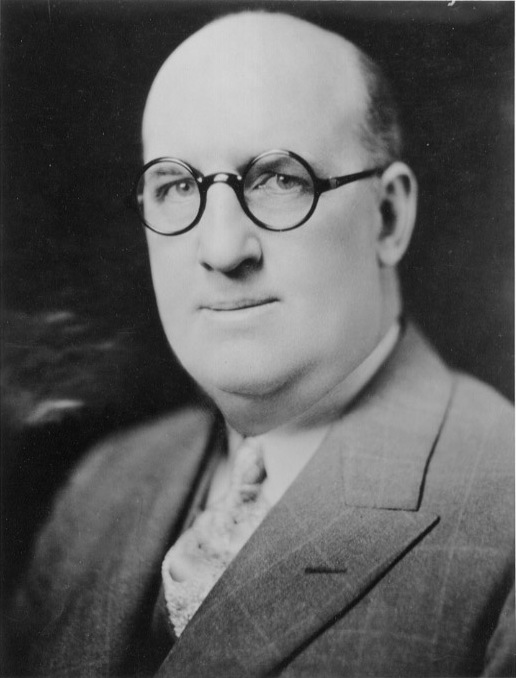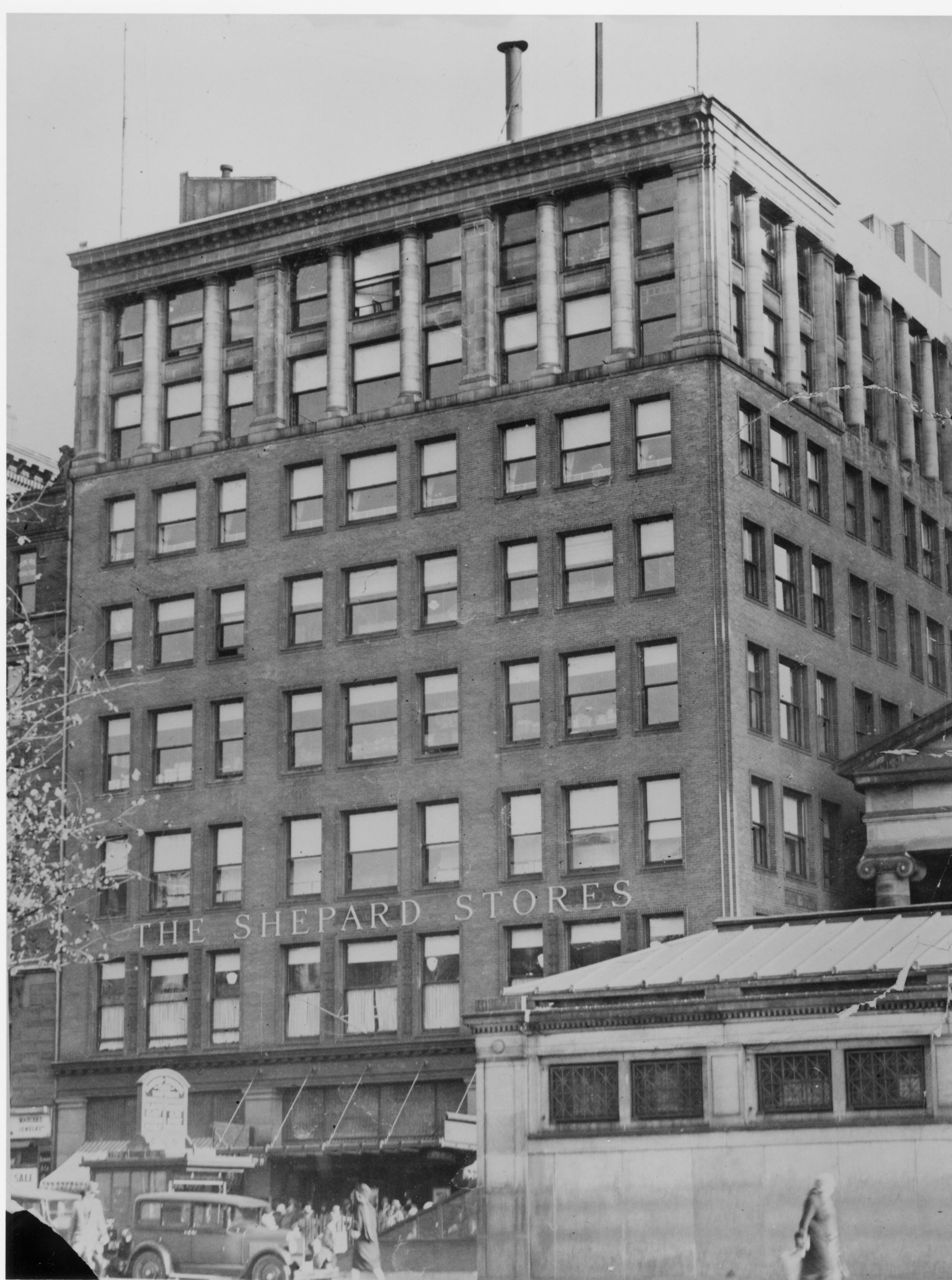 John Shepard III (born March 19, 1886; died June 11, 1950) was a controversial figure in Boston radio from the 1920s through the 1940s: some people found him ruthless and abrasive, but he was also an innovator. Here are only a few of his achievements:
On July 31, 1922, WNAC signed on at a wavelength of 250 meters; Shepard (alias "JS": announcers only used initials back then) and various of Shepard Department Stores employees worked on air. The station is on the fourth floor of the downtown Boston store on Winter Place (pictured). (A month earlier, his brother Robert, who owned Providence's Shepard store, had put WEAN on the air.)
In mid-August, 1922, WNAC broadcast live music from the successful Broadway show "Shuffle Along", which is on tour in Boston. This may be the first time a black musical has been heard on the air, and among the performers are Eubie Blake and Noble Sissle, who do hit songs from the show. Another broadcast of "Shuffle Along" music was done in conjunction with the Boston Radio Exposition at Mechanics Hall in early November, and was very well received. Shepard has had black performers on the air since the earliest days of his station, including several classically trained vocalists.
WNAC and WEAF (New York) linked up on January 4, 1923 for the first chain broadcast. (It would last for only five minutes, but it showed that chain broadcasting could be done.)
On October 11, 1923, John Shepard was elected Vice President of the National Association of Broadcasters, at the group's first convention, in New York. On December 10 of that year, Shepard is among a small delegation of influential broadcasters who meet with President Calvin Coolidge to discuss the future of radio broadcasting.
WNAC was the first station in Boston to offer live broadcasts of synagogue services, beginning January 20, 1924; Rabbi Harry Levi, "the Radio Rabbi", becomes the first rabbi to use broadcasting as a way of teaching tolerance and educating the public about what Jews believe. He becomes so popular that two books of his radio sermons are issued.
On May 13, 1925, WNAC's sister station WNAB goes on the air, also at 250 m (1200 kHz). Shepard also introduces "house names": his secretary, Bertha Mitchell, was known on the air as "Jean Sargent"; she had begun broadcasting bedtime stories in 1923. When she left in 1925, she was replaced by another woman, who was also given the on-air name of "Jean Sargent".
WNAC broadcasts the first live play-by-play of a Boston Red Sox home game, versus the New York Yankees, on April 13, 1926. Gus Rooney, of the Boston Traveler newspaper, did the play by play of the first games. The Sox lose the three-and-a-half-hour game by a final score of 12–11.
On January 31, 1927, WNAB changes its call letters to WASN—"Air Shopping News"; it was the prototype for what would later be called "home shopping". Unique for its time, it featured an all-female staff: the station manager was Marion Smith, and one of the announcers, Grace Lawrence, would become a regular with the Yankee Network later on. Another staff member, Claire Crawford, will become one of the few women in radio sales during the 1930s.
By June of that year, WBIS—"Boston's Information Service" was on the air at 990 kHz; its hours were very limited, and it also broadcast shopping news, as well as some phonograph records (obtained from the record department of the Shepard Store). WBIS would replace WASN.
Meanwhile, WAGS, a low-power station (only 5 watts) in Somerville had gone on the air at 1200 kHz; its owners will ultimately move it to Lexington where it would become WLEX in October, 1927. The owner of WAGS, and later co-owner of Boston's first TV station, W1XAY, was Jesse Smith Dodge. "Jack" Dodge had begun as an announcer on WGI, and then went to WNAC as an engineer, a position he held simultaneously with working on WAGS. Clearly, Shepard knew about and was supportive of Dodge's venture.
On November 10, 1929, WNAC inaugurated the "Catholic Truth Hour", the first program of its kind sanctioned by the Roman Catholic Church for broadcast on radio. It is hosted by Father Michael J. Ahern, a friend of Rabbi Levi and a long-time proponent of religious tolerance.
On May 25, 1930, Shepard, who had shared some WNAC programming with his brother Robert's Providence station WEAN since the early 1920s, expanded that link into the Yankee Network, adding WNBH, New Bedford, as his first affiliate station. There would soon be affiliates all over New England. WLEX joined the Yankee Network on January 20, 1931; by April 20, Shepard would own the station. WLEX became WAAB, operating out of the same Boston studios as WNAC (now at the Hotel Buckminster). Meanwhile, Shepard had promoted Claire Crawford to assistant sales manager of the Yankee Network; she was the first woman in New England to hold a management position of that level.
In March of 1934, frustrated by a lack of cooperation between the local newspapers and his Boston stations, Shepard, assisted by one of his managers, Leland Bickford, starts his own news service for his affiliates. It was called the Yankee News Service, and in a slap at newspapers, the slogan the network uses is "News while it is news". Shepard had become part of the "Press-Radio War": at the time, newspapers had succeeded in persuading Congress to legislate against radio, such that stations were only allowed to air two newscasts a day. The Yankee News Service won the right to do more than two newscasts; in fact, some of the news reporters Shepard hired came from print journalism, most notably Dick Grant, of the Boston Evening Transcript. Shepard's efforts on behalf of his radio reporters result in all broadcast journalists getting the same access and press credentials that only newspaper reporters had gotten previously.
In August, 1936, Shepard begins a second network, the Colonial Network, which is in smaller markets and has stations with lesser signals than the Yankee Network. WAAB in Boston became the flagship station; the network aired some Mutual programming.
On August 18, 1937, Shepard was granted a construction permit to put the first FM station in Massachusetts on the air. It was licensed to Paxton, west of Worcester, and would operate from Asnebumskit Hill. Through his chief engineer, Paul DeMars, Shepard had met and become impressed with FM inventor Edwin Howard Armstrong, and threw his support 100% behind FM, even to the point of starting an organization of FM broadcasters. Several sources say he even lent Armstrong money to continue his experiments. In late December of 1937, in order to devote more time to his broadcasting ventures, Shepard closed the Boston Shepard Store; his brother's Providence store remained open.
W1XOJ went on the air on May 27, 1939, with 2000 watts. To get the programming from the Boston studios of the Yankee Network out to Paxton, a low power relay station (W1XOK, with 250 watts) was also set up. (On April 29, 1941, W1XOJ would receive a commercial license under the call sign W43B, reflecting its operating frequency of 44.3 MHz.)
In November of 1939, a dispute between Shepard and a disgruntled former employee, Lawrence Flynn, led to Flynn forming his own company, Mayflower Broadcasting. Flynn tried to get the FCC to award WAAB's license to Mayflower; while his efforts failed, the FCC decision in the case, called the "Mayflower Decision" would forbid radio from editorializing or taking stands on issues. (Shepard, who was very opinionated about politics, had been letting his favourite candidates have more airtime than those he opposed.) That ruling would not be reversed until the 1949.
Continuing with FM experimentation, Shepard's engineering team put a new station on the air: W1XER, on Mt. Washington in New Hampshire, on December 18, 1940. (The station had been a 500-watt Weather Service station known as W1XOY.) Once W1XER is up and running, Shepard is able to link it with W1XOJ and create the first FM network.
On March 20, 1942, with great fanfare, the Shepard stations and the Yankee Network moved to state-of-the-art new studios at 21 Brookline Avenue, near their former location at the Hotel Buckminster. Then, on September 30, WAAB was officially moved from Boston to Worcester, where it would make its first broadcast on December 13. (Shepard had been trying for years—unsuccessfully—to get a station in western Massachusetts; he had even tried to move WLEX out there, but to no avail.) WAAB's building would eventually become home to the FM station.
In November of 1943, W43B became WGTR ("General Tire and Rubber"), after the General Tire Company purchased a controlling interest in the Yankee Network. Shepard remained with the corporation in an executive capacity until 1949.
John Shepard died in June of 1950. His brother Robert continued to run the Providence Shepard store until 1970, when he sold it; the store was closed in 1974. The Shepard family maintained a charitable trust for many years; among its gifts was a 1972 donation of $7000 to WERS at Emerson College. Shepard's widow Mabel died at the family home in Brookline in 1992; she was 102. The Yankee Network, which John Shepard had founded, made its last broadcast on February 26, 1967.