North East RadioWatch: June Get-Together
Updated June 7!
It's that time of the year again, when we fire up the trusty NERW-mobile and head out on the main streets and back roads of New England. (Wait, that would be "Chronicle"'s catchphrase...)
In any event, your trusty editor will be back in eastern New England for a few days next month, and what can that mean but another NERW Get-Together?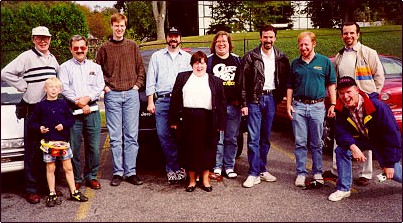 Those of you who attended last fall's event in scenic and highly out-of-the-way Torrington, Connecticut know how much fun NERW readers can have when we meet face-to-face. It's a great chance to trade radio stories, show off radio memorabilia and cool electronic toys, and meet new friends with a common interest. It's also the only chance you're likely to have to visit radio transmitter sites with a large group of people who don't think you're weird. (1998 group photo by Bill Dillane.)
At 12 noon (well, 12:05, after we finish rolling tape on top-hour IDs), we'll sit down for lunch at Gregg's Restaurant, 1303 North Main Street in Providence. North Main Street is also U.S. 1 and RI 122; you can get there from exit 27 off I-95 (and follow U.S. 1 south). The restaurant phone number is 401-831-5700; if you need directions in, you can reach the NERW cellphone at 716-766-5261 Saturday morning. We'll order off the menu and each pay individually.
Bring whatever radio/TV goodies you'd like to show off -- bumper stickers (for show or trade), aircheck lists, tower photos, cool electronic toys, T-shirts, you name it. Those of you who work at radio/TV stations are highly encouraged to bring promo items to share with the group (which is expected to number 15-25 people).
We'll leave the restaurant about 1:45 and head up to the Museum of Rhode Island History, 110 Benevolent Street, for a private viewing of their "Live From Studio 1-A!" exhibit on the history of Rhode Island broadcasting. Admission is $2.
After we see the exhibit, the NERW-mobile will continue south, heading for the tower sites of South County. Anyone wishing to join the caravan is more than welcome to do so.
(For those of you in New Hampshire, Vermont, and Maine, never fear...if we didn't hit your area on the NERW Northeast Road Trip a year ago, there's a good chance we'll get back that way this fall, and we'll try to schedule another get-together up there!)
Please drop me an e-mail letting me know if you think you'll be able to come. Our group numbered over a dozen in Torrington -- can we top it in Providence?
---
The Boston Radio Archives
The Upstate New York Radio Archives
fybush@world.std.com
bra@bostonradio.org