The Boston Radio Dial: W242AA(FM)
Who, What, Where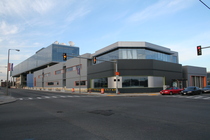 WGBH studios, Brighton
Community:
Beacon Hill
Channel:
242D
Ownership:
WGBH Educational Foundation
Studio:
1 Guest St.
Brighton, MA 02135-2016
Transmitter:
Eastgate Building
60 Wadsworth St.
Cambridge, MA 02142-1317
Primary:
WGBH 89.7 Boston
Technical Parameters
W242AA operates on 96.3 MHz at an ERP of 5 watts, from the MIT's Eastgate building in Kendall Square, below WMBR's antenna. The antenna is directional, with a primary coverage area of Beacon Hill and East Cambridge, which (it is claimed) sometimes have a severely degraded signal from primary 89.7 FM. Legal IDs are provided in the main audio of the primary; audio pick-up is over-the-air using a reception antenna mounted a few feet above the transmission element.
Station History
The first construction permit for a Beacon Hill WGBH translator was issued in 1990 as W249AX on 97.7 MHz; the directional pattern was engineered to protect WCAV Brockton, also on 97.7. However, when the installation was tested in 1991, the owners of WCAV asked the FCC to deny an operational license, complaining of interference. WGBH then applied to move the translator to 96.3 MHz, a frequency on which translators had not previously been permitted. The FCC agreed, subject to the consent of third-adjacent 96.9 WCDJ (now WTKK). They agreed, and the transmitter was adjusted (making no other technical changes to the plant); the translator came on the air for real in October of 1991.
See Also
---

This station profile was written by the editors of The Archives @ BostonRadio.org. We have no relationship with the station; please send any comments or questions about their programming directly to the station. Network connectivity courtesy of MIT CSAIL.
[ Home | Contact | Legal | Updated: 2007-06-10 | Validate this page ]